BRAND NEW YEAR, BRAND NEW KNIVES!
2017.05.20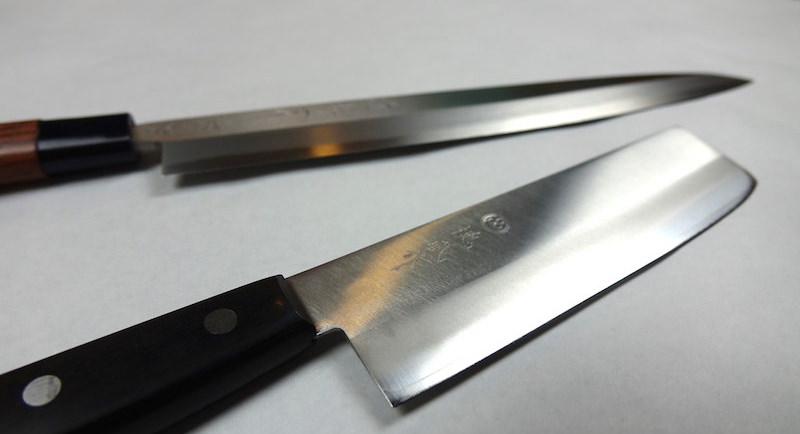 We're selling various shapes of knives!
Here are some of them,
All-Purpose Knives
Also known as the Santoku knives, these are by far the most popular and versatile knives available.
All brands tend to make this in a similar size around 170mm, it's the perfect size for home use. You can use the straight part for chopping and curved part for slicing, if you're purchasing a Japanese knife for the first time this shape is highly recommended.
Check All-Purpose Knives
Vegetable Knives
The Japanese vegetable knife Nakiri for double bevel, and Usuba for single bevel is designed to be a perfect chopper for vegetables. The blade is straight all the way across, you won't be able to slice, but will be choppin' all day.
Check Vegetable Knives
Chef Knives
Also known as the Gyuto, these are the closest knives to the western chef knives.
If you are transitioning from western chef knives, these are ideal Japanese knives for you.
Check Chef Knives
Sashimi Knives
One of the traditional Japanese single bevel knives also known as the Yanagiba.
Its single bevel with concave surface ensures that there will be minimum contact with the fish to give cleanest slice for your sashimi. The difference of taste of fish is drastic when compared to sashimis sliced with standard double bevel knives.
Check Sashimi Knives
You would need to sharpen your knives after using, the longevity of the edge depends on the quality of steel.
For that,
Waterstone
is used for sharpening.
We have a service to sharpen your knives at Hidatool,
please feel free to
contact us!
GO BACK TO TOP